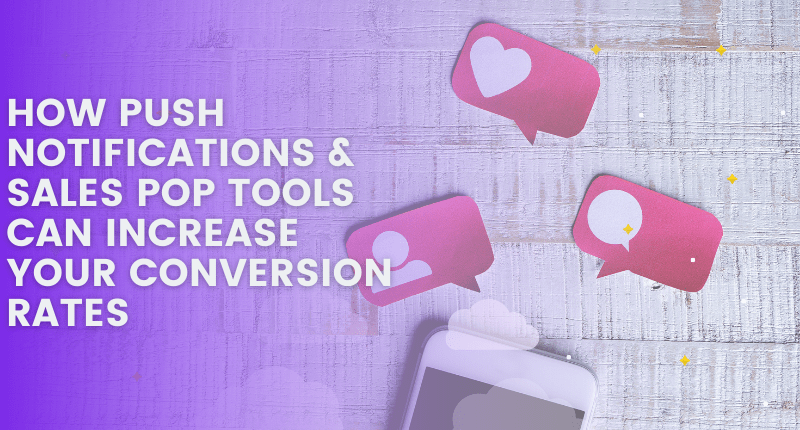 04 Aug

How Push Notifications & Sales Pop Tools Can Increase Your Conversion Rates

When people visit a website for the first time, they are usually in the analysis mode where they try to figure out if they should take that fundamental decision – to purchase, to subscribe, to hire etc.

When they are in this mode, they need to be 'pushed' or, 'encouraged' to make that decision. Popups, push notifications and sales pop messages are the tools designed to attract and retain the user's attention and getting them to make that important decision.
What is a Push Notification?
It's a small pop-up that appears your desktop or mobile as a regular notification (like SMS, or messenger notifications). The purpose of the notification is to prompt the user into visiting the site to read an article or a news piece.
In an age where everyone wants to remain on top of the latest news and happenings, push notifications are pretty much in demand.
Let's say you have tens of thousands of subscribers and you want to update them with new information. You'll simply generate a pop-up and subscribers will receive the notification of your news piece in their browser, desktop or mobile.
Because push notifications grasp the instant attention of the user, they are much more effective in getting the user to take the desired action. If used along with other digital strategies as email marketing (we know the problem with email is low open rates),or messenger bots you can really make sure you are generating close to 90% open rates.
The benefit to this, is your subscribers get instant information and do not miss out on any important happenings.
There are multiple tools out there that let you create push notifications, providing you with multiple options. A popular tool is PushCrew which allows you to push targeted, personalized messages to your subscribers instantly.
Do take note though that people are very specific when it comes to browser notifications – unless it's content that is helpful for them, they will not want to be disturbed with a notification.
Misusing (or abusing!) push notifications can result in your business being perceived as spammy or annoying. This means people will instantly block or unsubscribe from your business. Don't let this happen. Use push notifications sparingly spearheaded by a strong strategy.
In this modern age, personalization is super important and push notifications to help you deliver a personalized approach to your subscribers that not even emails can achieve.
What are Sales Pop Tools
So! Another of our favorite is the sales pop tool.
Notice when you browse an e-commerce website, there is a small pop-up that says something like, 'Someone from London just bought Fitbit Versa FX.'
This is called a sales-pop (popup!) that plays a significant role in promoting purchase activities on your website or store.
If you have an e-commerce site, the sales-pop app is a great feature to have. It encourages people to make a purchase based on the purchase activity of other customers. It's quite a powerful motivator as it makes people feel like they are in a marketplace where other customers are buying the same product from their region. If they have any doubts, the popups effectively remove those doubts.
You May Also Like to Read:
Why Pop-Up Forms are the Most Important Conversion Tools

You can set up sales pop-ups by using apps and services such as Beeketing that offers customized sales-pop solutions to businesses large and small and can easily be integrated with WordPress, Shopify, Weebly, and Big Commerce.
So folks! If your conversion rates are taking a hit or you're out of ideas on how to get your customer's attention, you can try out push notifications and sales pop boxes. Do make sure though that you use these tools along with other marketing strategies to maximize their effects.