18 Jul

Why Pop-Up Forms are the Most Important Conversion Tools

The pop-up form has received a fair amount of criticism since the dawn of eCommerce & business websites. It's a controversial marketing component that has long been debated by experts.
Is it useful or is it plain annoying?
A 2016 study comparing several pop-up styles found that 50% of participants rates pop-ups as "very annoying," and "extremely annoying." Most digital marketers shy away from popups because they have really been grossly misused. There was a time when people couldn't browse websites peacefully without experiencing frustrating popups selling all kinds of weird stuff. Not to mention, they have also been linked to the virus, malware and dozens of other problems. Yet, they are still being used and are actually quite important for your conversion rate.
What is a Pop-up?

Popups can be considered as mini-reminders that, 'pop' up when you're visiting a web page. Their main goal is to remind, encourage and prompt visitors into making a decision or taking an action. It could be from something as signing up to the monthly newsletter to making a purchase decision.
Over the years, marketers have become creative and have taken steps to create less-intrusive popups. This has led to a variety of popup styles and designs that are being used by almost every website on the internet. In fact, a website without a popup feels incomplete!
Different Types of Popups
While designs and styles of popups vary, there can be categorized under five common types. These are:
✔️ Exit-Intent: Notice how often you get a popup just when you're about to press the 'x' button to close the tab? That's called the exit-intent popup. This is used as a reminder to help visitors remember to make a decision about an offer, a discount or anything else you've set the popup for.
✔️ Time-based: Anyone scrolling the website for more than a few pre-determined seconds will be shown a popup. This is to help people make a decision while they are on that particular segment of the website. For example, if visitors have been scrolling through your blog or reading a post, you can have a popup asking them to subscribe to your blog!
✔️ Scroll-based: As people scroll down a webpage, they see popups at specific sections. Like when they reach a customer testimonial area, they might see a popup asking them to book a demo. This is less intrusive and allows the visitor to scroll for information without being bothered with a popup right at the beginning.
✔️ On-click based: This one is pretty simple. It serves the purpose of capturing the visitor's attention right when they are clicking a banner or an image. People tend to respond to popups that appear only after they have clicked at a particular section.
✔️ Scroll-box: Unlike other pop-ups that hit at the center of the screen, scroll boxes come from the side. They are designed to capture attention without being intrusive. A lot of websites today prefer to use scroll-boxes to get user signups. They are a much politer form of the usual popup box.
Why are Popups Still Important and Relevant Today?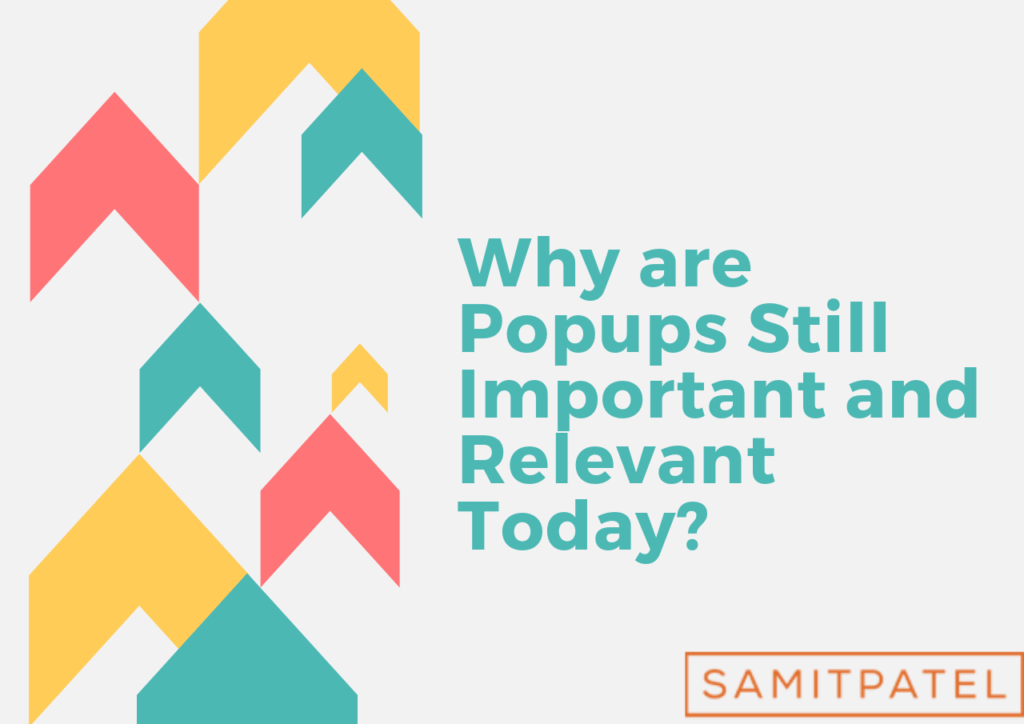 Apart from improving conversion rates, here are a few important reasons popups are still relevant.
You May Also Read:
Facebook Ads For Crowdfunding
Kickstarter vs. Indiegogo
✔️ They help your visitors know what action to take. Is it to sign up for a newsletter? Or for a promo deal? A discount? Whatever the purpose of your website or landing page, the pop-up form is the sort of push you give to your visitors to take action.
✔️ They help your visitors notice the obvious. For example, a discount deal that they may have ignored while browsing other sections. With a pop-up, they will be more inclined to avail that discount.
✔️ They act as a reminder for the visitor to make an important decision. It's almost like reminding a guest to come again just when they are about to leave. Despite being controversial, popups are still beneficial and are used for a number of reasons. There are also a variety of popups that are used at different segments of a website. What are those popups and how do you use them? These will be discussed in detail tomorrow. Notice how it's all about the visitor? Because when the visitor remembers to sign up, avail a discount or makes a purchase decision, your business benefits. This means popups are only successful IF they cater to people.
Pop Up Best Practices

As marketers begin focusing on user behavior, they have learned to smartly use popups. There is also an increasing focus on writing copy that motivates people to take the desired action without being salesy or annoying. Here's a list of best practices when it comes to launching popups on your website.
✔️ Decide on the type of pop-up you want to use: Spend time studying and researching on the different types of pop-ups that are commonly used and decide on which will suit your purpose best. Every business's purpose for using a pop-up is different and is based on what the business wants the audience to do.
✔️ Focus on the design: Good popups are pleasant to the eye. Try making popups that a visitor cannot ignore simply because the design is so pleasant! Keep colors cool, text prominent and the main message visible.
✔️ Write great copy: We've talked about copy plenty of times before. I'll just reiterate the main point – your copy needs to be simple, to the point, and creative.
✔️ Don't ask for too much information: Keep it simple. Want them to signup? Just ask for their email address in a field bar.
✔️ Be careful of time: If you're using a time-based popup, be careful of the time. Too early into the browsing experience, will cause people to leave in frustration. Too late, and you won't meet your goals. Your website bounce rate and the average user time spent metrics can help you determine the time duration you need to set.
✔️ Make them user-friendly: Your audience should have the option to easily close the popup. There should also be an option to opt-out from being shown the popup again while browsing the site.
✔️ Follow Google's rules for popups: Yep, Google wants visitors to have a non-intrusive experience while browsing websites, so make sure you read up on what Google suggests for popups. It directly affects your SEO practices.
✔️ Place them at the right location: Again, the main purpose is not to disrupt the visitor's reading experience. You could place them when the visitor reaches the mid or the end of the page.
✔️ Do your A/B testing: Remember we discussed A/B testing previously? You can test the effectiveness of different types of popups with A/B testing. Test, measure, record, implement.
You May Also Like to Read:
How Push Notifications & Sales Pop Tools Can Increase Your Conversion Rates
✔️ Offer value: Think of why a user would want to entertain the popup? Is there anything of value to them? Are you offering them anything of value? Popups that offer incentives are likelier to convert higher than those that don't offer any value at all.
Although pop-ups are controversial and Google has taken a strong stand, it is all just to ensure a smooth audience experience. Remember, popups are just the means to an end, they shouldn't overpower other essentials.