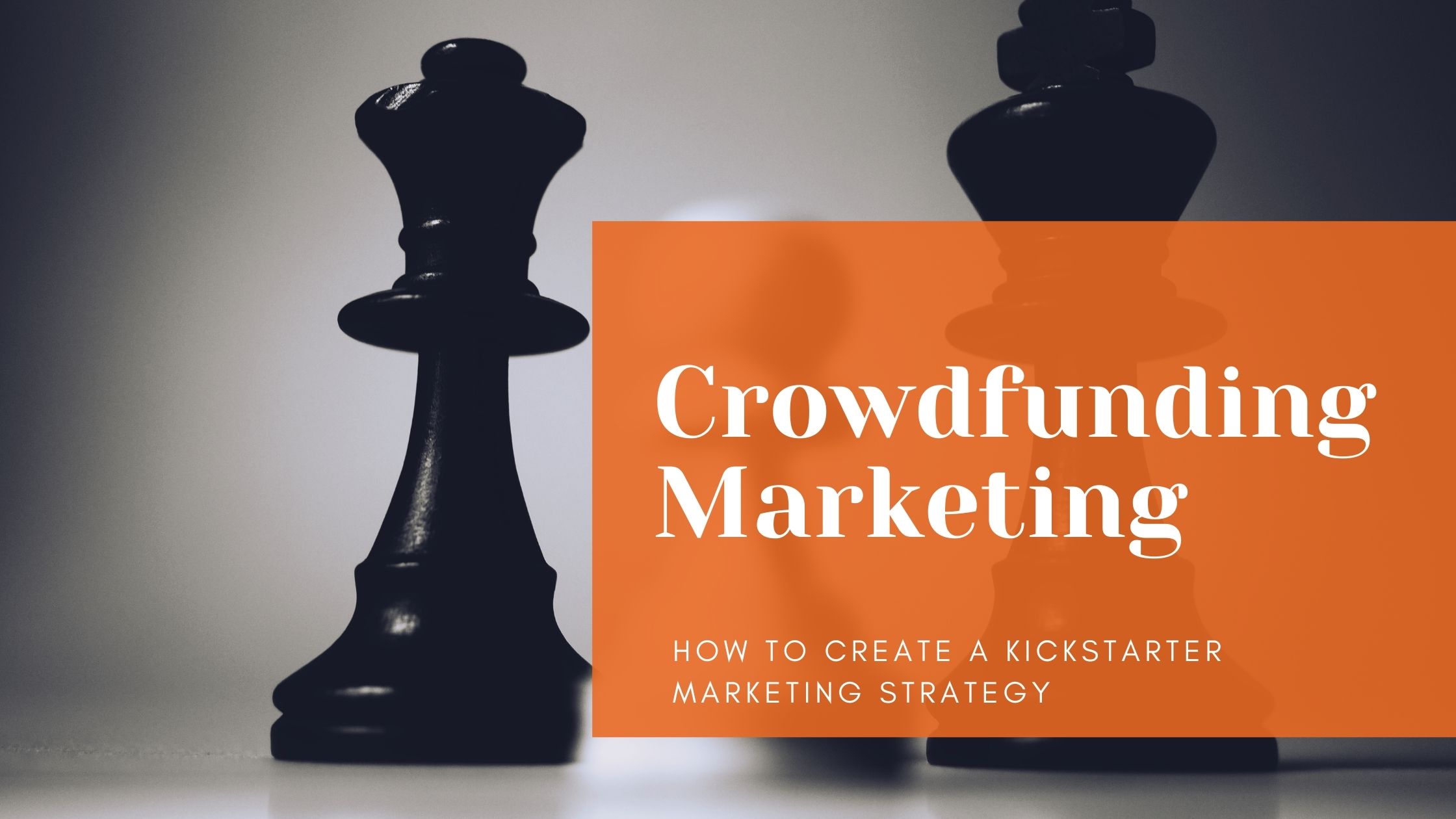 14 Oct

How to Create a Kickstarter Marketing Strategy – A Quick Guide for Beginners.

After months of contemplation & research, you've finally decided to launch your campaign on Kickstarter. Now what?

After deciding to launch your campaign, the first thing you need to do is build a Kickstarter marketing strategy.

In this quick guide, I'll be walking you through some of the basic steps you need to take to build your Kickstarter marketing strategy so your campaign can succeed.
What is the Fundamental Goal of a Kickstarter Marketing Strategy?
The power of Kickstarter and crowdfunding lies in the community – not the money.
Many entrepreneurs make the mistake of assuming that crowdfunding is all about raising money, but essentially it's about building a strong community of supporters to back your project.
The fundamental goal of any Kickstarter marketing strategy, therefore, is to ensure that you're getting a barrage of backers who are willing to support you despite not ever knowing you or using your product.
What is the Biggest Challenge of a Kickstarter Marketing Strategy?
Imagine being asked to invest or pay money for a product you've never seen or used before – not online nor in physical stores.
There are no reviews, no user recommendations, no social proof.
Would you easily spend your money?
Probably not.
This makes it significantly challenging to market Kickstarter projects.
You're asking people to pre-order a product they've never used before. The only thing they have to trust you with is a video of your product, the copy of your sales page, and the promise that you'll deliver in due time.
See how this isn't like any other marketing strategy?
This is why you need a very strategic approach with your sales copy, emails, ads, and how you want the public to perceive you.
Marketing is the only way for your campaign to succeed so without a kickass marketing strategy, you may not be successful with your Kickstarter campaign.
How to Create an Effective Kickstarter Marketing Strategy?
Now that you know the main goal and challenge of a Kickstarter strategy, here are some things you can do to meet the goal and address the challenge.
1. Run a Deep Competitor Analysis on Amazon & Kickstarter
Competitor research is the starting point of your Kickstarter marketing strategy.
And when I say competitor research, I don't mean a bunch of Google results.
Here's what my team and I do for our clients with competitor/market research.
Search Kickstarter for Similar Projects
People often miss this part when they are doing market research. It's important that you go through Kickstarter to identify similar projects.
Make a list of the top ten competitors on Kickstarter who are in your industry or have similar products.
In a sheet, note down:
Their funding goal and the total amount raised
Their pricing model and how that is justified
Their product positioning and messaging
What people are saying about them
You can also use a tool like Kicktraq to get in-depth analytics on top-performing campaigns.
Here's how a report of iiRcade, one of our top-performing campaigns looks like:
Search Amazon and Online Stores for Insights
The ultimate goal of most product crowdfunding campaigns is e-commerce.
So if you want to eventually want to move into an e-commerce model after a Kickstarter campaign, it's good to do your research from now.
Amazon is a treasure trove of insights. From customer reviews and queries to detailed product descriptions, to price points and discount ideas, you can get most of the information you need to position your product.
Search Facebook Groups and Instagram Accounts
Search for Facebook groups relevant to your niche product. For example, if you're making a kids' smartwatch, search for groups that the smartwatch brands have created.
You can also search for relevant groups like teenage gadget groups etc to find out what people want in a smartwatch.
Next, you can list the top ten Instagram accounts relevant to smartwatches for product photography inspiration.
2. Creating an Irresistible Offer
Here's where crowdfunding for products gets interesting.
You want to build a community that will become buyers.
In order to get people to join your community, they need to have an incentive.
And that incentive is an irresistible Early Bird or exclusive offer.
So essentially, the people who are signing up to your community are people who will "back" your project by pre-ordering your product at a discounted price.
An early bird offer or discount is usually 30 – 40% off your retail price.
The offer will become the pledge amount on the campaign page as shown here.
3. Build a Community on Facebook
The most important part of a crowdfunding campaign is in the community.
Facebook provides this perfect opportunity to build a community around your product.
You can grow the community with interesting content, help like-minded people connect and network.
Facebook communities are central to crowdfunding success.
So do make a content strategy plan just for your Facebook community.
The strategy can include:
a). Video content specifically product demos and tutorials.
b). Competitions and quizzes to ignite interest and engagement.
c). Informative news, guides, and insights relevant to the industry.
d). Satisfied customer testimonials (when the product is delivered).
The community will remain active even after you're done with the campaign and as your supporters grow so will the community.
When you launch on Amazon or have your own online store, this community will be your strongest asset.
4. Use Paid Ads to Drive Traffic to Your Landing Page & Facebook Group
As a rule of thumb, keep at least $5,000 handy just for ads.
Without paid ads, you cannot drive traffic to your landing page or Kickstarter page.
The funnel is simple:
Drive traffic to the landing page via ads
Convert traffic into leads via sign up forms
Convert leads into prospects via FB group
Convert prospects into customers at the time of launch.
5. Develop FOMO-Based Email Drips
Email marketing for crowdfunding is based on FOMO (Fear of missing out) techniques.
You will need to send emails that drive people to your product page to sign up.
Emails like limited time offers, exclusive early bird offers, buy before the campaign ends offers, etc are all examples of FOMO tactics that are used to drive urgency.
At the time of launch, it is only your emails that can drive conversion (boosted by retargeting ads).
So your emails have to be on-point with the kind of messaging that will drive people to back the project.
Marketing for a Kickstarter campaign isn't easy especially if you're not well-versed in digital marketing.
But because it's so niche, not any marketing agency can help you out.
6. Influencer Marketing for Kickstarter Campaigns
While influencer marketing works great for established brands and businesses (they got the money!), for crowdfunding campaigns, it may be a significant challenge if you're short on a budget.
Ideally, you want to attract influencers with your product. For instance, one of our clients iiRcade had a product so good, they were endorsed by gaming and tech celebs which led to 7-figure funding in less than a week.
That said, sometimes, you just have to do it the old-fashioned way; that is, make a list of influencers in your industry, reach out to them with a clear goal, and negotiate a deal.
There are three types of influencers – the macro gods (100K followers and above), the semi-gods ( 10,000-100,000), and the newbies (less than 10K). The rule of thumb is to start with the newbies as they will have a bigger and more direct impact on their circle. These influencers are regular folks who have a close-knit community and directly influence with their endorsements. They are the best people you can reach out to for endorsements within a reasonable budget.
Here's how you can get started:
Make a list of influencers relevant to your niche
Set the goal for influencer marketing (signups, backers, awareness)
Set a goal of the number of influencers you want to have on board (2, 5, or just 1)
Set a budget for each influencer and what you expect from them within that budget
Write an influencer pitch that should include expectations
Make sure you have a great story to share (personalized stories rank better in convincing influencers to work with you)
Communication with the influencers must be organic, authentic and value-driven
Establish a one-on-one relationship with these influencers. You might be needing them post-campaign too
Reach out to influencers on the medium/channel that your audience are most likely to be found. For instance, if you're making a video game, your influencer is on Twitter and not on Instagram.
Identifying influencers is not a simple matter of getting a list off of Google. You need to really dig deeper into the type of influencers you want to work with, whether their values align with yours and whether their audience has the purchasing power you need.
Quick Recap
Your marketing goal for Kickstarter must tap into the power of the community.
You need a strategic approach with your sales copy, emails, ads, and how you want the public to perceive you because you're asking people to back a project that is not yet in the market.
Always conduct an in-depth competitor research on Kickstarter, Indiegogo and Amazon to identify price & product positioning.
Create an irresistible offer to promote your product
Build a community on Facebook
Make sure you have a funnel that turns traffic into backers
Double down on your email marketing funnel
Reach out to influencers and establish a one-on-one relationship with them
Prepare well in advance of your launch date (we recommend 3 to 6 months prior)
Work with crowdfunding marketing experts who can help you with strategic marketing
Remember, your Kickstarter crowdfunding campaign can only succeed if you have a strong marketing + promotional plan set in place. Without marketing and promotion, you might fail to meet your goals and make no money at all (Especially if you're using Kickstarter which operates on an All or Nothing model).
Want to talk to an expert to help you make sense of all this? Reach out to us for a free consultation call!
You May Also Like to Read:

How to Start and Launch a Kickstarter Campaign?

There are specific crowdfunding marketing agencies that are recognized by Indiegogo and Kickstarter to be your marketing partners.
Check out the videos below for more.