23 Jun

Is Crowdfunding the Right Choice for You? Here are Five Questions to Help You Decide

As a consultant who has worked with hundreds of businesses, I've always come across this question – will crowdfunding work for me? Is it the right choice for my business?

My answer to this question is always a set of five important questions. I'll elaborate on them in a while, but before you read the rest of the article, try writing down the answers to these questions.

1. Is your idea good enough for people to support?
2. Do you have the support of a large network of backers (before going public?)
3. Do you have clear and transparent milestones?
4. Do you have enough knowledge of the crowdfunding platform you want to use?
5. Do you have strong knowledge of how crowdfunding works?

Tough questions eh?

Don't worry. I'll elaborate on each of the questions above to help you find your answer.
Idea:
Crowdfunding is tough.
You're asking the public to financially support your project. What is the one thing that would attract people to invest in your project?
The idea. The product. The end result.
The public will only help if your idea or your product is innovative and exciting.
But we all know, having an idea is not enough. You need to build your reputation. You need to build a list of people who want to support you. You need backers to make crowdfunding work.
This leads to our next question – do you have backers?
Backers:
Statistics of 2019 show that 16.01 million backers had supported 439,891 projects on Kickstarter.
There are millions of people out there ready to back your project. Getting their attention and their support though is one of the most difficult challenges of crowdfunding.
The only way you can get backers is when you have an audience of supporters from your local community. Friends, acquaintances, colleagues, etc play a critical role in helping you build your brand.
If you don't have local supporters, you can try connecting with influencers and people in the industry who can support your project.
To kickstart your project, you should ideally have 100 people willing to contribute. Say, each person contributes $20, 100 people would mean $2,000. Once you achieve this on the platform, other people would be interested to support you further.
Backers are also your first customers, your beta testers and much more. Convince them, win their trust and they will continue to support you!
Milestones:
Any project that opens itself for public funding must have clear milestones.
An unspoken rule of crowdfunding is transparency. Keep your supporters updated about your milestones, your setbacks and your progress. You need to win their trust if you want their support for long-term.
This is why, it's particularly important to breakdown your project deliverables in achievable milestones (these are displayed in a separate tab on the platform). Each milestone is assigned a funding goal, so if you have your numbers ready, you'll have greater success in meeting your goals.
Platform: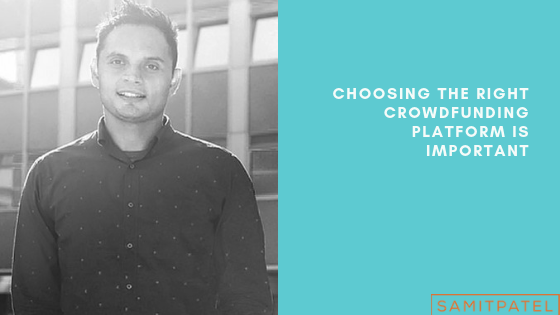 Choosing the right crowdfunding platform is important.
Depending on the type of crowdfunding model you're using (link to crowdfunding model article), you need to know about how the particular platform works.
For rewards-based funding, Kickstarter and Indiegogo (link to Kickstarter vs Indiegogo article) are the top platforms, but they are also quite different from each other.
If you're opting for rewards-based funding, it's necessary to know how these two platforms operate and what are their distinctive features.
Crowdfunding:
The premise of crowdfunding is simple – get the crowd to fund your projects.
The execution is tough.
The first step to crowdfunding is research. Conduct in-depth research of your industry and the platform that best suits it.
Also try to research on similar projects. Comb through top projects and study every detail. The more knowledge you gather, the better your chances of running a successful campaign.
Crowdfunding is one of the most innovative methods to earn capital without having to visit banks, lenders or investors. But it requires work. It requires a significant investment of time, planning and smart marketing.
You May Also Like to Read:
5 Challenges of Crowdfunding You Need to Know Before You Take the Plunge
How Much Does it Cost to Run a Crowdfunding Campaign on Kickstarter and Indiegogo?
If you have a great product, all you need is a solid strategy and crowdfunding can work wonders for you.
Want to know if your project is the right fit for crowdfunding? Let's talk! SAMIT PATEL crowdfunding marketing agency.