25 Aug

How to Use Facebook Marketing to Boost Your Crowdfunding Campaign – A Beginner's Guide, Part 3

We covered the basics of setting up an FB page in the first part of the guide. In the second we covered the different types of ad formats. Today, we'll cover how to create your first ad. We'll also look at the different types of ad formats in more detail.

Let's dive in!
How to Create Your First Facebook Ad
Now that you have a Facebook page and have a fair idea of what kind of ad format to use (again, for beginners, I recommend the Promote Page or the Post Engagement ad), let's start with the process itself.
Step 1:
Go to the ad center. Click on Create Ad
Step 2:
Choose your objective:
This is where having a clear objective is important. You will be prompted to choose your objective of creating an ad. Depending on your page analytics, Facebook also gives recommendations. In the case of this page, Facebook has recommended more website visitors as the objectives, however, that is not our fundamental goal at the moment. If you're new to FB, you might want to promote your page instead.
Step 3:
Select your audience: Remember the point about being specific with your target audience demographics in the planning phase. Well, this is where you will need them. Facebook displays ads only to the audience demographics you choose. For example, if your audience are male millennials in UK speaking English, you will enter that information to the audience segment. Your ads will be displayed to this specific audience. The narrower you can go with your locations (for example a specific location in UK), the better your results.
Step 4:
Set Up Budget and Ad Duration
FB ads start at $5. You can place limits on your ad spending, for example, $10 every day for the next 10 days. You will not be charged more than $10 and once the 10 days are over, you can choose to increase your spending or cut it off. The amount of money you spend determines your reach – the more you spend, the more your reach. For beginners, I wouldn't recommend spending more than $200 – $300 just to understand the platform and the results. During this time, you'll need to monitor your campaign and see what works for you.
Step 5.
Pick Format: From the eleven formats above, choose the one you're most comfortable with. Do make sure though that images and videos are of good quality. Poor quality media will ruin your ad efforts! Do remember to write a convincing copy/caption along with each ad.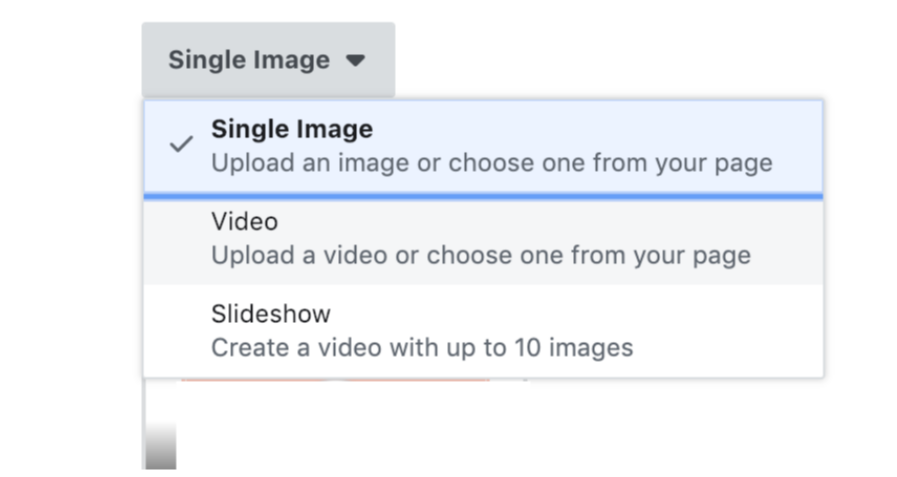 Step 6.
Submit: Submit your ad and watch as FB displays the ads to the right people.
Step 7.
Monitor: Track your ad performance. FB automatically displays data for total post engagement, the number of people reached, the cost per post engagement, number of photo and links clicked, page likes and shares. You will also get information on how many percentages were men or women and where the ads were placed (mobile or desktop).
Choosing Between Boosting a Post and Running an Ad
If you're new to Facebook page ads, you're probably confused by the Boost and Promote option.
In a nutshell, the Promote option allows you to promote your page to a broad audience demographics. If you've just created a Facebook page and are planning on increasing your reach, you can use the Promote option.
The Boost Post option is a feature that lets you advertise (or boost) a specific post on your page. The purpose of Boost post is to get your audience's attention for that specific post instead of the whole page.
So for example, if you already have a post that has higher engagement than the others, you could boost the post to make it go viral. The downside is that boost posts can become expensive and are beneficial only until you're paying for it. The moment you stop paying, your traffic will go down. It's not long-term.
A boosted ad will look just like a post, with the only difference that the audience can see a, Sponsored label in the top left-hand corner with a call-to-action in the bottom right-hand.
You May Also Like to Read:
How to Use Facebook Marketing to Boost Your Indiegogo Campaign – A Beginner's Guide, Part 1
How to Use Facebook Marketing to Boost Your Crowdfunding Campaign – A Beginner's Guide, Part 2
Collection, Carousel & Slideshow Ads
Apart from a single image and video ads, you can also use carousel and collection ads. These ads are available if you choose the 'website traffic' objective. For the promote page app, you can still use a collection of slideshows but you can't add a web link to it.
Here's how you should use each of them.
Collection Ads: These are catered for the mobile audience and work best if you have a cool video to go along. With collection ads, your video and images are placed in a grid with your video taking center stage and other items in your catalog displayed beneath the video. You can use this template when you want to show off your product catalog using rich videos and images. The purpose of collection ads is to make it easy for people to browse your products without leaving the platform. So if you've got a collection of fancy product images, use them in collection ads!
Carousel Ads: Previously known as canvas ads, carousel ads are available only on mobile. It may seem similar to collection ads, but it's different in the sense that it lets you add links to each of the product you advertise, giving customers more options and increasing your click-through rate at the same time. Facebook also recommends using carousel ads to tell a story, showcase a process or display multiple features of a product – use it any way you want to!
Slideshow Ads: If you don't have the budget to create a video, no problem! Slideshow ads collect your images and turns them into a video, so when you run the ad, the audience is actually watching a compiled video of your images! You have rich video editing tools and a collection of music to use when creating the ad. Slideshow ads use less data than an actual video and so you can easily use it to tell your story, show off your products or lead your customers through a process.
And this is the end of our third part guide!
In our next part, we'll get into details about setting your budget and how you can optimize it to achieve maximum results.
Stay tuned!
Also, Need help to boost your crowdfunding campaign? Hire our crowdfunding marketing agency today.