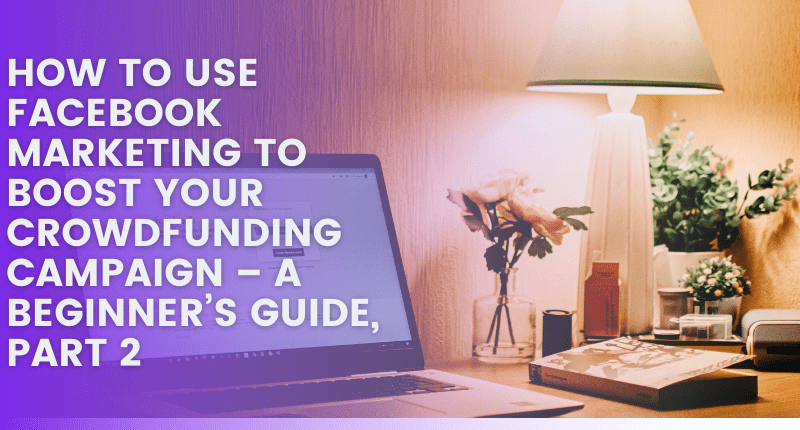 14 Aug

How to Use Facebook Marketing to Boost Your Crowdfunding Campaign – A Beginner's Guide, Part 2

With 2.32 billion active users, out of which 68% are American users, Facebook is MIGHTY.

To capture a chunk of that audience is every marketer and business owner's DREAM.

The only way you can achieve that dream is by mastering Facebook ADVERTISING.

Facebook advertising is one of the most challenging features of digital marketing after PPC ads. It's competitive. It's complex. It's nerve-racking. Yet, it's also one of the most powerful platforms that offer you the ability to reach your target audience directly. Since it's so extensive in nature, we'll be covering this in three parts. You can read the first part here to get a preliminary understanding of how to use Facebook as a marketing funnel.
Setting Up Your Facebook Page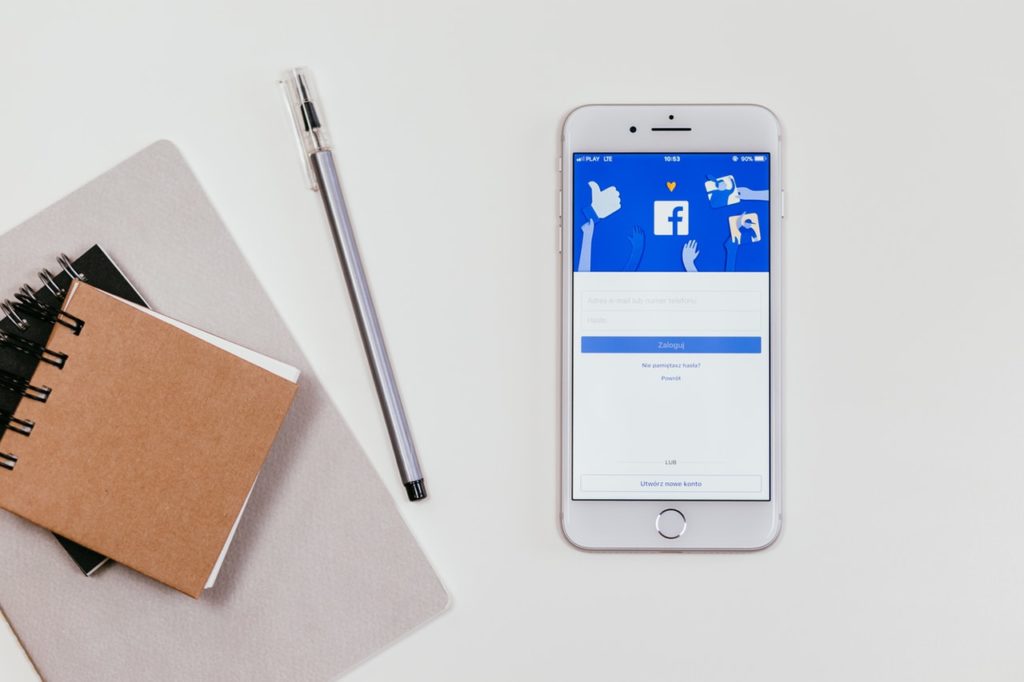 The first step to running a successful Facebook ad campaign is setting up a successful Facebook page. It is highly recommended that your Facebook page is active with regular posts and engagements, 'before,' you run an ad campaign. Why do you need to do this? Because your audience wants information about your business before they decide to do business with you.
Here are a few things to do before you initiate a Facebook advertising campaign.
✔️ Setting up a page: To run a Facebook ad campaign, you need to have a facebook page. Setting up a page is just a matter of seconds. All you have to do is click the Create Page option in your personal profile, enter your page name, choose your business category, upload your company logo and cover photo. Done! You now have a page ready.
✔️ Uploading business profile & cover photo: Use a 360×360 pixels profile photo size. If you're a business, your logo is your profile picture. Your cover photo can be a graphic with your business tagline or caption. It can also be a short video that introduces your business.
✔️ Create a complete profile: Nothing is more annoying than incomplete information. Make sure you have your address, About Us section, Photos, Demo videos, and every other information ready on the profile before you invite friends or share information.
✔️ Create consistent branded posts: Facebook content is mostly image-based, so, you should either have a designer on board who can help you with branded posts or you can try your hands at Canva, a free design tool. Ensure consistency in terms of fonts, brand colors, and other design elements.
✔️ All relevant links/CTAs: Make sure your phone number, landing page URL and CTAs are ready and are connected to your FB page. The most important is your landing page or website.
✔️ Put up some posts: As soon as you have your page active, begin posting. Use an editorial calendar to plan your posts for at least a month in advance of running an as campaign. You should ideally have 4 to 5 posts a week divided into various types – a blog link, a quote, a meme, some inspirational stuff, etc.
✔️ Use Facebook's Schedule Post Option: Now that you have your content ready for all the days, it's time to post it on Facebook using the Schedule Option. Initially, you'd have to use tools like Buffer or Hootsuite to schedule posts on FB, but now, the channel has a pretty good and easy-to-use schedule option. You can schedule posts in advance. This leaves you free time to monitor and measure your posts.
✔️ Posting schedule: Experts recommend a posting schedule of maximum two times a day, focusing on when your audience is most active. You can obtain information about your audience from Facebook Insights.
✔️ Invite friends: Once you have a few content pieces ready, start inviting your friends to like your page and share your posts on their newsfeed. The more people share your page, the higher your chances of getting likes and engagement.
✔️ Super Important: Whatever you do, DO NOT BUY FAKE FOLLOWERS. They are ineffective and can even possibly drag your engagement rates down.
✔️ Familiarizing Yourself with FB Page Manager: The FB page manager is a full-fledged business tool. It has an extensive list of options. From assigning page roles (important when you hire a social media manager to handle your account), to monitoring and measuring insights. Familiarize yourself with the options of the page manager given in Settings. For example, cross-post (posting one piece of content across several channels) without using any third-party tool. There are some great functionalities you can use to optimize your page. All you need is to spend time exploring each option.
✔️ Page Insights: One of the most important features is the Page Insight. These are metrics that give you insights on page views, page likes, page followers etc. What's the most crucial is you can actually see which of your post has been the most popular throughout the week. This information can help you get a very accurate idea of what your audience prefers to see on your page.
✔️ Delegating social media management: Facebook management is a full-time job and if you were to do this with other channels, it will eat up your whole day. My best advice? Hire a social media specialist from Upwork, share your goals and expectations, assign them a role on the page, bring metrics on an excel sheet and use your time to focus on business or product building.
Beginning with Facebook Advertising

Right! So you've got your page set up, great posts going out and have a fair amount of engagement. Now you want to grow and you're venturing into Facebook ads for crowdfunding.
Let's go through it step by step.
Creating Ad Objectives
It's always important to narrow-down your business goals before you start an ad campaign. You have to know why you want to run a certain ad type and what is your end goal.
For example, if you're a new business and want to gain traction, Page ads may be a good choice. If you're an established business, you may have deeper business goals, such as attracting leads or increasing sales.
Facebook categorizes most business goals into three broad or common objectives which are:
✔️ Awareness: If you've launched a new business or project, your first goal or objective may be to help your target audience know about your business. For example, you've launched a new bookstore in town and want to inform your audience. Your first campaign would be an awareness post informing your audience about the bookstore and the benefits of buying books from you.
A narrower goal of awareness is maximizing your brand visibility and reach. This means running a campaign that caters to a wide audience demographic just to get the initial buzz going. So again, back to the bookstore example. This time, your goal may be to attract a national audience with online ordering. Awareness is a fundamental objective of any new business, product or service. It's the first step you can take to attract your target audience.
✔️ Consideration: The second objective is to help your audience find out more information about your product. The consideration objective uses your website or landing page to help people find the information they need to consider buying from you.
Narrower goals of consideration can be driving traffic to your website, getting your app installed, getting people to engage with your posts, collecting leads and signups, connecting with customers and encourage their interest in your business.
✔️ Conversions: The most important objective for every business investing in Facebook ads is conversions. This is the phase where you want people to make the purchase via your website or online shop. In the case of crowdfunding, this is where you want people to fund your project.
You May Also Like to Read:
How to Carry Out Research for Your Crowdfunding Campaign – Part 1
How to Use Facebook Marketing to Boost Your Crowdfunding Campaign – A Beginner's Guide, Part 3
For conversions, you could have goals as getting people to buy from a discount offer, leading people to specific products in your store, or giving them incentives to purchase from your brick and mortar store.
The narrower your objectives, the better you will be able to create effective ads.
Eleven Types of Facebook Ad Formats

Facebook ads can be categorized into eleven main elements (as of 2019). You can employ multiple formats depending on your ad objectives. Each ad format forms an ad set which is tied to the ad campaign.
✔️ Video: Smartphones have allowed people to create high-res videos seamlessly. This has led to an increase in video consumption with nearly 45% of people watching more than an hour of Facebook or YouTube videos a week. Video ads are one of the most powerful ways to attract your new audience, provided it is creative and thought-provoking.
✔️ Images: Image ads are super popular with e-commerce stores. There are the easiest to make and do not take more than a few minutes to execute. One powerful image can play a significant role in traffic generation and lead conversion. Facebook allows for normal JPG and PNG images as well as 360 Panorama images that you can use to give your audience an immersive experience.
✔️ Collection: Have a variety of products to show? The collection ad format lets you display your product catalogue when you run the ad. This means if you want to showcase your new arrivals or the different versions of your product in one ad, you can easily do so with the Collection format. You can combine the main video with these products and the ad will be displayed in the form of a grid. This kind of ad is highly effective in getting your users to convert!
✔️ Carousel: Want to showcase ten images or videos within a single ad, each with its own link? The carousel ad format does exactly that. This is a perfect ad for businesses that want to show a process, a collection catered to individual tastes or simply a sequential story.
✔️ Slideshow: Slide-shows are basically a collection of your top-images turned into a video format. So if you don't have the budget to create a professional video, you can use the Slideshow option to gather your best images and turn it into a facebook video. The perfect solution for those who cannot create a video.
✔️ Instant Experience: Known previously as Canvas, Instant Experience uses the mobile's full screen to display the ad. This ad format supports all of the formats above – be it a carousel, a collection, video or images; it's main purpose is to grab the attention of the user and give them an enriching brand experience.
✔️ Lead Generation: Want to get people to sign up directly to your website? Use a lead-gen ad. You can create an ad with a basic form that asks for name, email address, and zip codes. This is the right ad to use if you want people to sign up for your newsletter or to avail a seasonal discount etc.
✔️ Post Engagements: Post engagement ads are simpler and more classic forms of Facebook ads. You can use these to promote a post on your page to get likes, shares and comments. Most businesses use post engagement ads to gain traction over a specific post.
✔️ Offers: Have a special deal coming up? The Offers ad format lets you create an offer right on Facebook itself. You don't have to use any landing page or website to create an offer on FB, although you can make it creative by using a carousel or slideshow to make the offer attractive.
✔️ Event Responses: Have a special event coming up? Use the Event Responses ad format to create ads that specifically gives information about your events including time, date, location and any other important information. This is a great feature for social causes like marathons, walk-for-a-cause, and any other local activity.
✔️ Page Likes: This is the most basic form of Facebook ads. To do this, you simply go to your page and Promote it using the Promote option. Your FB page will appear as an ad. If you're new to Facebook ads and want to experiment with how it works, you can start off by first promoting your page to the relevant target audience.
With so many options and features, Facebook ads are complicated, but they also offer a world of opportunities through strategic advertising. It is highly recommended that you spend time learning about each of these ad formats and how they can cater to your fundamental goals.
Follow us as we continue the discussion on Facebook ads in Part 3 of the guide or Need help to boost your crowdfunding campaign? Hire our crowdfunding marketing agency today.