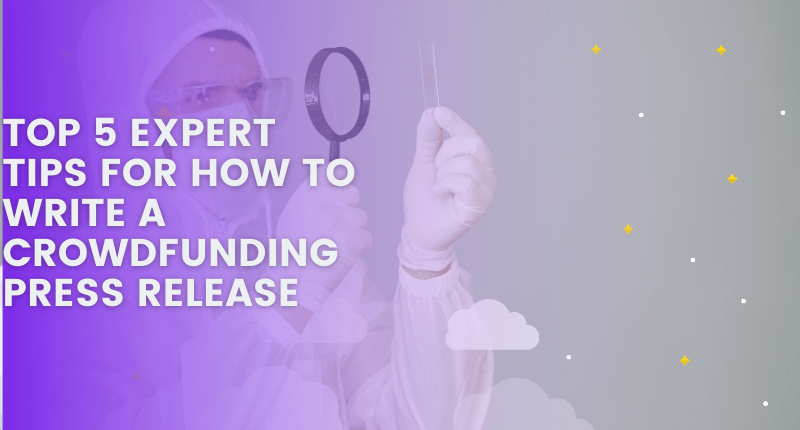 09 Jun

Top 5 Expert Tips For How to Write a Crowdfunding Press Release

Starting a crowdfunding campaign on Kickstarter or Indiegogo? First things first, you need a powerful press release!

For those who are not familiar about a press release, it is a factual document or a report that you write for media sites. When you're creating a crowdfunding campaign, the press release will be the tool you use to convey to the audience information about your business, your campaign details, your story, and your journey.
Writing an effective press release is crucial during the early stages of your crowdfunding campaign.
There are literally thousands of campaigns running on Kickstarter and Indiegogo – why should people support your campaign? This is a fundamental question you need to answer in your press release.
Here are a few essential tips on how to write a good press release for your crowdfunding marketing or campaign on Kickstarter and Indiegogo.
Gather All Factual Information in One Place

A press release is like a news report and consists of factual information. When you write a press release, the first thing to do is to make sure you have all your information in one place.
These would include:
Your campaign URL
Your contact information
Your bio (about you or the business)
Your campaign dates
Links to your website & social accounts
Any other important information that you want the public to read
With all this ready, begin your press release by crafting an impressive headline. Remember, the headline is the most important and should grab your reader's attention, however, do not write a click-bait title – people are most often turned off by a click-bait title.
Writing Your Press Release

There are a few things to take care of when writing the writing press release and one of the most important is keeping an objective, factual tone and avoiding the use of superlatives or hyperbole.
Start the introduction with information about your product or business and give readers an idea about who you are and what you bring to the table.
Answer what, why, when and how questions as well as you can because these will be the questions the audience would want an answer to.
Include the use of statistics and research figures relevant to your industry if needed. The more accurate and research-backed your press release will be, the more willingly a reader will support your campaign.
End the press release with your contact information and social media links so that journalists and people interested in your campaign can follow up easily.
Discussing Your Campaign

Details about your campaign should ideally be discussed in the second paragraph of the letter after the introduction. Important points such as:
Your campaign duration
Campaign milestones
Amount of funding required
Your fundraising goal
Your campaign link and any other important information relevant to the campaign
Avoid burying your campaign information deep in the article. People hardly read press releases and even if they do, they just want to scan through information as quickly as possible. Conveying all your information at the beginning of the letter helps develop interest and they can make a decision faster.
Always think about the press release from both a journalist and an audience's point of view – how should communicate an important message and seek for support without being overbearing or hyperbolic.
If you don't have the experience or time to write a press release, you can always hire freelancers or writing experts who can do the job well.
Some press release writers may also have accounts on press release websites and can help you submit the document to relevant sites.
Keep it Formal but Don't Make it Rudimentary and Boring

Although you're required to write in a professional tone, you don't have to keep your content boring. Add in a personal touch and give an overview of your journey.
Avoid the use of typical corporate jargon. Keep it simple, easy to read and human. Complicated and passive sentences will turn the reader off.
Remember though to create a balance between being professional and being casual.
You want the readers to read easily, but since you're submitting a press release to the media, it also has to maintain a professional tone.
Submitting Your Press Release
Once you have the press release ready, start contact media outlets and online news sites. If you have a blog or a website, you can also upload this to your blog and share the link on your social media page.
You May Also Like to Read:
10 Game-Changing Factors For Crowdfunding Success
Top 3 Reasons to Hire a Crowdfunding Marketing Agency
5 Challenges of Crowdfunding You Need to Know Before You Take the Plunge
Always upload the press release on your personal website/blog before you reach out to news outlets.
Connect with editors and writers of news outlets and give them an overview of your business, your campaign and attach the press release as a PDFl.
Make sure you give complete links in the email and make it easy for the reporter to reach out to you.
Remember, a press release is a tool you're using to get an outreach for your campaign, therefore, you must include all essential elements to make it effective.
A good introduction, details about the campaign, facts & statistics, a quote, and all relevant contact information are important elements that make up an effective press release.