01 Sep

How Much Should I Spend on Facebook Ads – Our Guide to Facebook Ad Budgeting

Running successful Facebook ads doesn't necessarily require a large budget. With strategic planning and creative execution, you can make the most of your resources and achieve impactful results. In this guide, we'll explore effective strategies to run Facebook ads on a budget without compromising on effectiveness.
This article offers a concise guide on optimizing Facebook ad budgets for successful campaigns. It emphasizes clear objectives, understanding the target audience, calculating Customer Lifetime Value (CLV), setting realistic Cost Per Acquisition (CPA) goals, and using Facebook's tools for effective targeting. Testing, monitoring, and adapting budgets are crucial for achieving desired outcomes in a dynamic market. Let's get started. 
Some Keywords to Understand: 
To help you get a hang of the budgeting aspect, here's a list of some important words (concepts) to look out for. 

Budget:

This is the overall amount you want to spend on ads. From $5, to $50,000, the choice is up to you. For small business and startups, it is recommended that you start with $5 a day to test waters and figure out the quality of results. 

Once you're satisfied and confident that your strategy is yielding maximum returns, you can then gradually increase your ad spend to $500, $1,000 and above. 

If you're a beginner to Facebook ads, it is recommended that you always start with the lowest ad spending to see how the ads perform. Once you get the hang of measuring results and achieving a goal, you can then scale up your advertising budget. 

Remember, there is no fixed formula or budget for ad spend. Each business is unique in terms of its offerings, budget, costs etc so it's all up to you and how much you're willing to invest in FB ads. 

Bids & Bidding:

With thousands of businesses competing for user attention, it's almost impossible for FB to place every ad out there, so what they do is put your ad in an ad auction where those with the highest bids get their ads displayed across the network. 

The bid is the amount you're willing to pay to get your ads to reach a specific action. So for example, it costs $10 to reach 10,000 people. You bid for $10, your competitor bids for $11 and some more bid for $7, $8 etc. 

Now, Facebook will not make you pay $10 to get 10,000 impressions. It's the amount that you're willing to pay, but the amount that will actually be quoted is $1 (the difference between your bid and the competitor's bid). Although this sounds simple, the actual process is complex with thousands of businesses competing against each other. 

If you bid too low, you'll get zero impressions. You can always bid higher because the actual amount that will be deducted will always be the lowest amount because according to Facebook, 'you're often charged less than your actual bid.'

Impressions:

When your ad is displayed across the network, it is displayed on people's newsfeed. So one person view is 1 impression. Now if the person's friend shares the same ad and is viewed by the person a second time, then that's two impressions. Remember, impressions are not clicks. They are just views and one person may view your ad multiple times. 

Reach:

The number of people who will see your content. 

Cost Per Click:

The cost of acquiring one click. The average is $1.72 CPC.
So How Much Should I Spend?
Truth is, there is no absolute answer or formula to how much you need to spend. The reason is it's largely dependent on your budget, audience size and your objectives. 
That being said, for anyone who's new to Facebook ads, the standard expenditure is $500 for you to see some reasonable activity. With Facebook ads becoming expensive, do remember that you'll have to spend significantly more to see high ROI. 
This is why it's essential to use audience optimization strategies (which we'll cover in the coming blog posts) to make maximum use of your ad spend. 
Entering Your Budget Numbers
When your ad campaign is ready, you are required to enter your budget for the ad to start running. 
There are two options to choose from: 
Daily Budget 
You can enter how much you want to spend X amount of days. For example, you want to spend $10 for the next 10 days, so Facebook will charge you $10 on a daily basis. However, on some days, the algorithm will determine that you have higher opportunities of getting views so it might overspend your budget by $2 or $3. You can choose to control this if you're not comfortable with it. 
Lifetime Budget: 
This is a one-time budget that you enter and direct Facebook to spend it for a set amount of days. This will function just like your Daily Budget with the only difference that you won't be charged every day.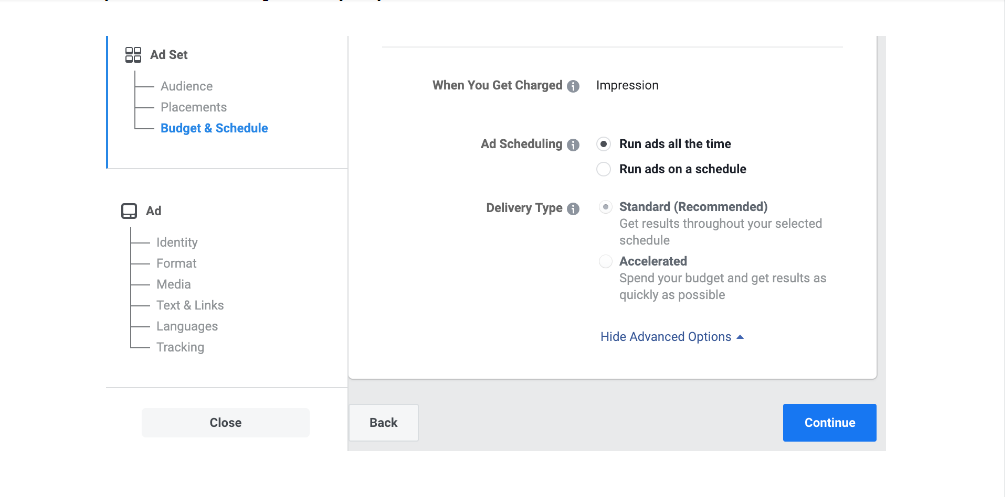 Scheduling Ads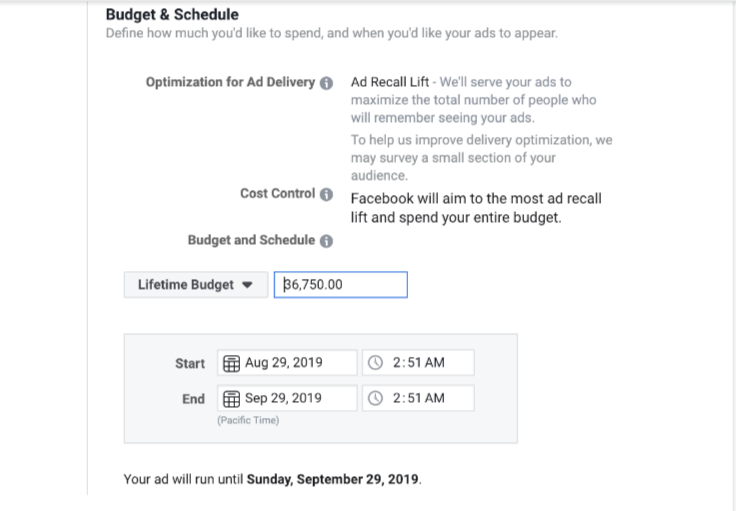 Other important sections of the ad budget window are the Ad Spend Limits and the Schedule option. 
When you're prompted to fill in the Ad Spend Limit, be sure to fill in the minimum and maximum amount you want FB to use on a daily or monthly basis. This is part of what is called a budget optimization and helps you remain in control of your spending. 
Finally, in the Schedule option (which is really very beneficial), you can choose the time of the day you want to display the ad to the audience. FB automatically shows you the time when your audience is the most active, so all you got to do is choose the right option and it will handle the rest. 
To make your ads more effective, you have to have a very clear idea of who you want to target. The better you segmentize your audience, the higher the chances of your ads being effective. 
You May Also Read:
Facebook Ads For Crowdfunding
Kickstarter vs. Indiegogo
What Does Ads Placement Mean?
When you create an ad on Facebook, you get to choose where you want the ad to be visible. 
When FB ads were still in its formative stages years ago, ads would only be displayed in the user's newsfeed. Now, however, FB ads are spread across a wide network that consists of platforms like Instagram and Messenger. 
So when you create an ad, you are asked where you want to place your ads. Facebook has done the hard work for you here and has created an automatic ad placement option which means that it automatically displays your ads across all channels using the lowest cost. 
The automatic option helps you control costs and ensures that you are getting the maximum value out of your budget. For beginners, using the automatic option is best unless you have a very clear idea (and experience) of knowing which platform serves you best. 
Ads are placed in: 
Feeds:

This is the main placement area, your customer's feed on Instagram and Facebook. Your ads will be placed on Facebook, Instagram, Facebook marketplace, Facebook suggested video and Facebook right column. 

Stories:

Your content will be placed on Facebook, Instagram and Messenger Stories. 

Messenger:

These are placed in messenger inbox and messenger sponsored messages. 

Audience Network:

This is an, off-Facebook, in-app advertising that uses apps and networks other than Facebook. Why do you need the audience network if it is not on the main platforms itself? Simply because you benefit from extended reach. 
Measuring Ad Performance
So now that you've created your campaign, got your audience, created your ad set, and have also successfully run the ads, what's next? How do you make sure that your ad converts and what kind of reporting metrics should you be looking at? 
When you're running your campaign, it's mandatory to measure metrics every day the campaign is running. Facebook's Ad Manager has all the metrics you need to identify the performance of your campaigns. Here, you can filter your campaigns by dates, objectives, etc. and "zoom in" any campaign to measure the performance of every single ad set or ad. 
You can see metrics for: 
Cost-per-click:

The total cost of each click. Say you're running an ad for $10 and it's clicked by 100, then your cost per click is $10 (total cost)/(100 total clicks) = $0.1/click. 

Cost-per-conversion:

The total cost for each conversion regardless of the clicks. 

Impressions:

The total number of times your ad has been viewed. 

Unique Link Clicks:

The total number of unique clicks on your ad. 
Facebook's reporting feature is pretty extensive and provides you with figures for important metrics such as reach, relevant score, CTR, cost per result etc. You can customize the kind of reports you want to see on your dashboard and select only those elements that are important to you. Some of the most important metrics you want to cover could be: 
Ad performance:

Results, Impressions, Reach etc are all types of metrics relevant to ad performance. You'll need these data sets to understand how your campaigns are performing. 

Engagement:

This is important to measure the engagement rate with your audience. How many likes, shares and comments are you receiving using the Engagement part. 

Website conversions:

If you're leading your audience to your website or landing page, it's important to measure website conversions, signups, cost per website conversion, etc. 
Finally, you can also choose to have daily or weekly reports delivered to your inbox for free. Once you've created a report based on your preferred metrics, you can save the report and have it emailed to you. 
So there you go folks! You now know how to budget your ads. For maximum results though, do try to study the information that Facebook provides for each term used on the ad page. You'll see a small ℹ️at the end of every term. Make sure you read the information carefully and be informed of every item on the dashboard.
You May Also Like to Read:
A Beginner's Guide to Facebook Custom and Lookalike Audience Sets
A/B Testing – What is it and How Do You Use it? – Samit Patel
Remember, although Facebook ads may look pretty simple, they are in reality quite complicated and require smart strategies to be effective. 
We highly recommend using a Facebook ad specialist or a reputable ad agency if you're seriously considering using Facebook ads to expand your business.
Also, Need help to boost your crowdfunding campaign? Hire our crowdfunding marketing agency today.