04 Sep

Facebook VIP Group for Crowdfunding Projects – How to Make it Work?

People spend an average of 50 minutes every day on Facebook.

But with Facebook Fan Page posts receiving less reach than ever, companies are desperately looking for another Facebook channel to reach these people.

Facebook Groups give companies a place to share content that's relevant to a specific audience. It lets you have one-on-one discussions with your audience which is way more effective than a page where the interaction is usually one-way.

If you use Facebook Groups for relationship building, you can drive a significant amount of traffic and sales from the connections you make.

With no cost to starting a Facebook Group to share content with an engaged community, it's a no-brainer to include this strategy to boost your crowdfunding campaign.
Getting Started on Facebook Groups
Log in to your Facebook Profile and on the left bar, click on Groups.

2. Create a new group and name it after your product/brand.

Make sure you keep it private for now. However, keep the group as "visible" so anyone can find it but not anyone can join it unless they answer a few key questions. As for the group name, keep it after your product or brand name. So for example, if your product name is Occulus VR, then the group name should be the same.

3. Do remember to upload a relevant image for the group. Ideally, you should have an image that represents your product. Here's an example from one of our clients Oak Journal.
4. Now that you've got the image, name, and group settings arranged, start inviting your firneds to join the group. Community building starts from home! Get your team to join the group and ask them to invite their friends and family too. This way when your actual target customers join, they won't feel like it's an empty page.
5. Membership questions are important to vet people before you accept them in the community. These questions will also help you identify your lead sources too. Some common questions you can ask are:
We will be launching on Kickstarter, a crowdfunding platform to bring this porect to market. Do you understand Kcikstarter or crowdfunding (yes/no)
How did you find this group?
What excites you about this project?
What's the one thing about this product that made you sign up?
Do you agree to meeting the terms and conditions of this community (i.e is no abusive language etc)
How to Engage with the Community
Your Facebook group can only grow if you're able to keep your community engaged.
This starts by connecting with your audience and understanding their pain points, their needs, and how your product helps them.
Here's a simple example of how a beard brand initiated a discussion about asking what the user's problem with growing their beard was. This kind of question not only generates interaction but can also provide a business with customer insights & challenges that they never knew existed.
Here are some valuable engagement tactics to help grow your Facebook group.
1. Welcome all your members by tagging them in the post
People like being acknowledged. When members join your group, give them a warm welcome by tagging them in a post.
2. Use polls and surveys
Create polls, surveys and quizzes to keep the engagement level high. People love participating in quizzes or polls. You can even use these to create a contest and perhaps offer prizes or cool incentives.
3. Ask people to share their thoughts and opinions (be sure you can moderate it)
People don't want to just consume content all day long. They also want to share thoughts and opinions. They want to participate and talk about topics they are passionate about. User-generated content is a great way to build an authentic, enriching community.
4. Questions that stir engagement
Ask debate-intensive questions relevant to your industry. So for example, if you're a consumer product company, you could ask, 'iPhone 11 or Note 10'? Although there is already significant debate out there, people seldom miss a chance to talk about their favorite device or brand. You can also ask list-based questions such as, 'Who is your favorite influencer?' or 'Top Influencers to Follow……'
5. Post videos and quotes
Images and videos posted in a group have chances of higher engagement than being posted on the main page where people are more reluctant to engage. Your sole objective is to create content that generates interest, motivating people to engage with your business. You can also ask people to share their pictures and videos to earn a referral bonus or discount.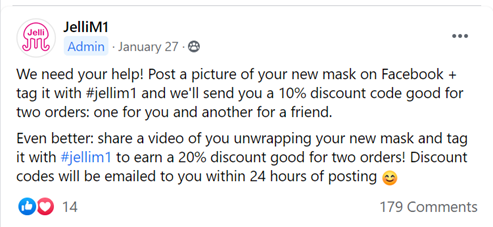 Facebook groups have grown popular over the decade, however, they are only effective if you take out the time to create engaging content and also remain engaged with your audience through comments, responses, etc.
With the combinative power of groups and pages, businesses can use Facebook to its full potential.
How to Grow a Facebook VIP Group Community to 1k+ Members
There are no hacks to growing a community other than providing your members with quality content and keeping them engaged. That said, a product-focused community is very different from a cause-driven or business community. The more members you join, the higher your chances of raising money on your launch day.
1. Advertise your group on your Facebook page:
You can't run ads directly to the group, but you can use your page to advertise the group. The fundamental difference between the group and the page is that the group is for private members only while the page is for public. So you could advertise your page, get people to like your page and then move them into joining the group.
2. Send out your group link in email communication:
If you're sending out targeted emails to customers or leads, you can ask them to join your group to stay updated with exclusive information. Instead of asking people to like your page via email, you can instead ask them to join the group and receive exclusive VIP discounts. This is more effective than asking them to like or share a page.
3. Advertise the group on your website:
Want your website visitors to be part of the community? You can prompt them to join the group from the website. You can do this via pop-up forms, exit forms or on your thank you page – just like how we've done here.
Facebook Group Engagement Tips Summary :
Accompany every post with an image
Engage every day and post a variety of content
Plan a content calendar with a variation of posts
Dedicate a day for every type of post. For example, Mondays are for Updates only.
Share fun, engaging content
Ask friends and family to chime in initially
Promote content from your website and other digital platforms to the group.
Create polls and ask for people's opinions
Share discounts and referral campaigns
You May Also Like to Read:

How the New IOS 14 Update Affects Facebook ads for your IndieGoGo campaign & what you can do about it.

You have 60 days until the final launch to make the most out of your group. Remember, the group is a community of your target audience and it can easily grow into thousands of loyal members who will help you boost brand recognition as well as sales.