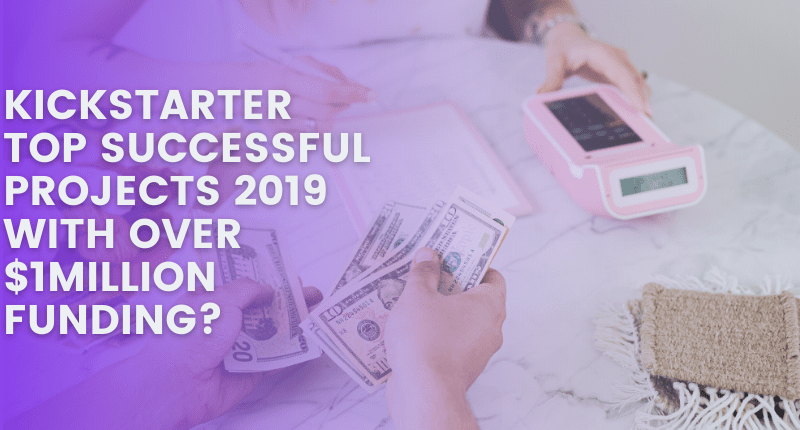 27 Jan

Kickstarter Top Successful Projects 2019 with Over $1Million Funding
Each year dozens of projects are launched on Kickstarter, with some making their way to top Kickstarter projects after receiving $1 Million in funding. Countless businesses have started thanks to the power of Kickstarter crowdfunding and as platforms like Kickstarter and Indiegogo continue to rise in popularity, more business founders are finding crowdfunding to be a better option to fund their ideas.
For 2019, Kickstarter had quite its share of successfully funded projects. Statistics show that Kickstarter had 37.44% of successful projects by the end of 2019, as compared to 36.86% at the start of 2019.
Here's a quick list of our favourite Kickstarter projects from 2019.
To be able to garner $12.1 Million from Kickstarter is a remarkable feat. The Travel Tripod's unique sleek design and lightweight carry (made with carbon fiber) make it the perfect travel tripod for photographers.
So how does a tripod get so much funding? Simply because it's designed to fit neatly in your luggage without taking additional space. Professional tripod users are sometimes quite wary of bulky tripods that are not suitable for long-distance travel.
What to Learn from this Campaign:
Identifying a need, creating a solution and using the right copy. A travel tripod is not a ground-breaking innovation but the fact that it addresses existing problems and has created a better solution makes it appealing. All the more, it's targeted at the right audience!
3D printers are cool and all the rage these days. Snapmaker 2.0 lets you do three major tasks – laser engraving, cutting and CNC engraving. What's even better? It's smart, sleek and powerful!
The device has managed to secure $7,850,866 in funding with 7,388 backers. The first version was launched in 2017 was an immediate success, making the device the third most funded project in 3D printing.
How is the Snapmaker different than other 3D printers? According to the makers, the technology has interchangeable modules that allow for easy changing of functionality. You can make artistic products using laser cutting and engraving.
What to Learn from this Campaign:
Bank on your reputation and keep updating your product. Snapmaker launched their fist successful project in 2017 and since then have fulfilled all rewards and focused on working towards their next product. Transparent communication, regular product upgrades, and innovation are key to successful Kickstarter campaigns.
Space-inspired watches that pay tribute to the Apollo 11 mission? Hell yes. One of the most popular tech watch campaigns, the Xeric Apollo 11 Automatic Watch has NASA's authorization to use its logo on the watches. The watch works like a light storage battery where light charges the battery and afterward, the light is continuously emitted.
Here's an interesting fact – the watch is designed for astronauts to keep track of time as they travel in the darkest regions of space, while also getting an optimal view of their environment. NASA's approval for the creation of this watch's series has made this timepiece one of Kickstarter's top and best tech projects.
What to Learn from this Campaign:
Get a brand like NASA to approve your product!
Ok, joking, but fact is the involvement of a well-known organization or brand is a good way to boost the credibility of your product.
4K. Touchscreen. Portable. Ultralight. Huge Screen. Stunning Sound. Brilliant Color. All of this rolled into one awesome looking device that has gained $5.3 million funding. That said, the product is yet to be shipped by late February 2020.
The Desklab monitor is designed for work, for gaming, for serious programming and even for learning, all this on the go. The monitor's USP? It's bigger than the iPad but 15% lighter than the iPad. Lots of amazing claims on this device, but until the product is not shipped and tested by users, we'd say, let's hold off the comments on this one.
What to Learn from this Campaign:
Excite people with the right feature highlights, however, what you promise, you should deliver!
While there are plenty of music learning apps out there, none of them come with an illuminated keyboard that lets you learn and play songs as you go!
You don't even need to own an actual musical instrument with the Lumi device as you use the illuminated keyboard and interactive app to learn the tune of the song. All you need to do is follow the lights and learn music at your own time and pace.
What to Learn from this Campaign:
Use the power of video to demonstrate your product. Use video testimonials of the right people to talk about your product. In this case, the creators put up videos of teachers using and recommending LUMI as a song learning device for kids.
So while we're at 4K screens and technology, this 4K Home Cinema is probably the future of home entertainment. You wouldn't need to go to the movies anymore!
Nebula has made quite a name for itself on Kickstarter with its innovative portable products including the launch of an Android TV and now a 4K home cinema. The product has garnered positive responses from the audience especially with a pledge amount of $429 where backers can get a 1080p screen, a power adapter, and remote control.
What to Learn from this Campaign:
Always, always live up to your promises in the first campaign – oh and a copy like, 'World's First…' should be attention-grabbing. That said, excellent customer service and transparent communication go a long way in building trust with your community members!
Kickstarter is a great platform to fund your new tech product, but, if there's anything these campaigns have taught us, it's that merely having an idea or a prototype is not enough. It's important to know what people want and use the right ways to market to them. Crowdfunding is great for free funding, but it requires an extraordinary level of commitment and transparency from you.
Check out the videos below for more.