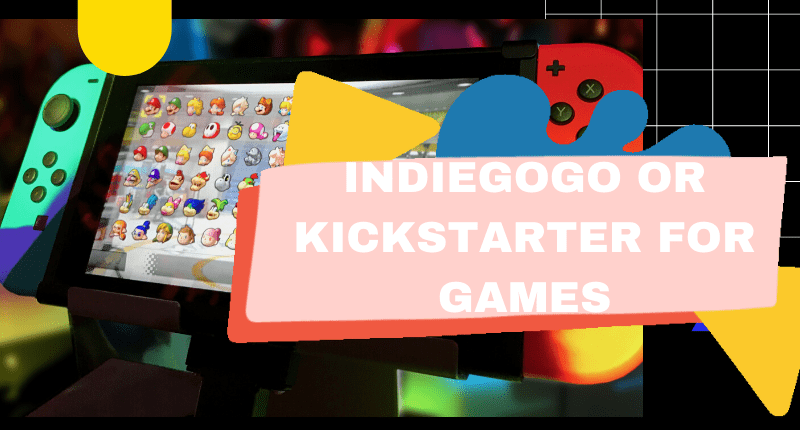 23 Dec

Indiegogo or Kickstarter for Games – Which Platform Should You Choose?

Gaming as an industry has overtaken Hollywood and music in sheer numbers. It is well worth over $90 billion by the end of 2020. Given how COVID-19 pandemic has made people stay at home as theaters and other recreational activities stay suspended, gaming has become more relevant than ever. According to earlier forecasts, the global games market will generate $159.3 billion in revenue, a year on year growth of 9.3%.

Given this background, a lot of aspiring game developers are hoping to get a slice of this multi-billion dollar pie. However, making a video game is quite an expensive endeavor. The vast majority of video games cost under $50 million to make. Some triple-A console and PC games have cost more than 5x to make!

What are indie game developers to do with such astronomically rising costs of making a game?
One of the most popular ways to finance your game development is by going with crowdfunding. Platforms like Indiegogo and Kickstarter are popular to build hype for your product, and at the same time, secure funding for your game.
Which platform should you choose to crowdfund your game development? We take a look.
Crowdfund Games with these sites
Both Kickstarter and Indiegogo have their pros and cons when it comes to crowdfunding. Comparing stats between the two is not possible, given how Indiegogo does not share data on funding. However, we do know that it has raised $1.6 billion for startups, as of January 2019. In comparison, Kickstarter has raised over $4.8 billion to date till March 2020.
Why choose Kickstarter for Gaming?
Kickstarter's games section is its most exciting and active part. That alone speaks to how popular crowdfunding a game is. Kickstarter has 15 categories, and its most popular ones are:
Games – $1.14 billion. 40.63% success rate
Design – $1 billion. 38.12% success rate
Technology – $801.73 million. 20.66% success rate
Kickstarter has been around for quite a long time. In fact, over 430 projects have broken the $1 million mark. It is simply, the biggest platform for crowdfunding at the moment.
One reason why game developers could choose Kickstarter is that veteran game designers like Yu Suzuki (SEGA) and Koji Igarashi (Konami) have successfully launched their AAA games there. Suzuki's Shenmue III and Igarashi's Bloodstained: Ritual of the Night projects were backed by hundreds of thousands of fans, who supported these industry veterans and their vision.
Kickstarter's approach to gamification is super appealing to gamers. Based on the amounts you pledge to your favorite projects, backers can unlock unique bonuses and rewards as development on the games proceeds. The developers keep backers apprised of their progress and milestones every step of the way, with deliverables mentioned. In essence, Kickstarter works as a great marketing tool to build hype for upcoming titles as developers release screenshots, music snippets, digital bonuses, lore, behind the scenes information, and more. There is no limit to these rewards! For added peace of mind for backers, Kickstarter only releases funding to developers as soon as they reach their goals. This ensures that your money is safe and that projects have a high success rate.
Only projects that are related to these categories are allowed on Kickstarter: Arts, Dance, Design, Journalism, Music, Food, Games, Photography, Publishing, Comics, Crafts, Technology, Fashion, Film & Video and Theater. It also supports 15 more subcategories.
Kickstarter also offers more detailed metrics for your projects and its funding scheme is fixed. Basically, this means that backers are only charged at the end of the campaign once the goal is reached. This gives Kickstarter a lot of credibility and coverage vs the competition.
If you are planning to choose Kickstarter for crowdfunding games, keep in mind that the platform doesn't support revenue sharing or investment opportunities. Nor can you raise money for a charity. Furthermore, there are some prohibited items that are not allowed to be backed on the platform. These include anything related to illnesses, drinks and food, alcohol, coupons and political fundraising. Last but not the least, personal projects are not allowed.
According to reports, around 36% of Kickstart campaigners are successful. Plus, it doesn't hurt that Kickstarter's massive organic traffic can help your project get discovered faster. The media likes to feature content from Kickstarter, thanks to its strict quality-control measures in place that ensure the only the best is out there.
Why choose Indiegogo for Gaming?
Originally launched as a project to exclusively finance indie films, Indiegogo has grown by leaps in a year. One benefit that Indiegogo enjoys over its competitors is that it supports any project or product. The platform features 3 main categories – Tech & Innovation, Creative Works and Community Projects – all of which can be broken down with 28 additional subcategories, giving project managers a lot of leeway with what sort of product they want to launch.
Indiegogo offers a more funding plans than its competition – fixed and flexible. Whereas Kickstarter is more appealing for backers, Indiegogo is more inclined to support creators. One of the ways that it does this is by making pledges non-refundable, letting creators know how much they have raised at any point in time. Backers are charged instantly. Comparatively, Kickstarter allows backers to withdraw later.
Furthermore, Indiegogo is great if you want to support a cause while making a video game. If you want your backers to donate to a charity of your choosing, you can do so.
Furthermore, there is no limit to associated rewards that you can keep for your backers, unlike other competing platforms.
Indiegogo also supports sharing video content via YouTube and Vimeo, a boon for marketing your games to the maximum possible audience. Your campaign can run on Indiegogo while your video continues to reach higher rankings on YouTube.
However, even Indiegogo has a list of prohibited items. This includes projects related to pipes, weapons, vaporizers, alcohol, gambling and lottery.
Conclusion
Both platforms Kickstarter and Indiegogo have their big positives. Kickstarter tends to be stricter with their quality control whereas Indiegogo's flexibility may prove to be a boon for socially-conscious game developers. It's just a matter of seeing what works best for you and your game development journey.
Now that you know what you know, good luck crowdfunding your game!
You May Also Like to Read:
10 Game-Changing Factors For Crowdfunding Success – SAMIT PATEL
Want expert help? Get in touch with us to see how we can help you launch your game on Kickstarter & Indiegogo!